Affiliate marketing can be a very lucrative profession if you put in the time and energy required to make it work. Here's how to Create Your First Affiliate Marketing Website. All to often people don't make it in affiliate marketing either because they don't have the money or they don't have time.
With all that said, one of the best ways to make money as an affiliate is to write content for your own blog.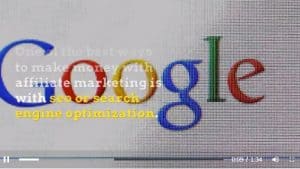 Content marketing is what it's called and it can catapult you into a new income bracket if you do things the right way. Content marketing works because people are searching for answers to burning questions they have about something. And, if they come across your content and you provide a high-quality answer they may just trust you enough over time to buy what you are selling.
But a word of warning here. It can take tons of time to produce good quality content and sometimes a decent amount of money. But if you stick with it, it can be a very rewarding experience in the end. And it has the potential to make you money that you can retire on.
How long Can Affiliate Marketing Take
And the real true answer is, it can take anywhere from 6 months to 2 years if you are building a blog with content marketing. It takes time for Google to trust a website and you have to know how to pick the right topics to write about that will get your site search traffic.
Do I Need A Website?
Yes, if you are doing content marketing. However, there are other ways to make money as an affiliate but they usually involve money.
And, you build a nice foundation with a website via content marketing. And the best part is you don't have to stop at one website either. You can have two or three if you wish.
Picking Your Niche
One of the first things you will want to do is pick a niche you will write about. And, one of the best things to pick is something you are passionate about. You want to pick something you know so you stay focused and interested.
But beware, it's very possible to pick a niche that has tons of competition already. But, if that's really the only thing you want to write about then so be it. You will just need to acquire more links back to your site in the end.
Establishing your own affiliate marketing website is a great way to generate side income.
But at the same time, it can be challenging too, just because you don't really know what you are getting into and how to do it. But don't worry, we are here to assist and we created a quick list to get you started.
Initial steps
Before you create the website, you have to do some research. Basically, you need to figure out what problems you want to solve and what audience you want to target.
There are thousands of potential audiences for you, so you need to come up with an idea for your affiliate marketing site and then see if there's a market for it.
You also have to research the problems that you need to solve as well because everyone looking to buy stuff usually wants to satisfy a need or solve a problem, to begin with. That's why it makes a lot of sense to focus on a certain target.
And yes, you need to focus on a particular niche. A niche is important because it helps define your site and people will come back to you all the time for products related to a certain industry.
Niches are small or large, so you have to pick what suits your business the most here.
Here's step by step how to Create Your First Affiliate Marketing Website.
Find a domain name
The main thing about finding a domain name is that you need a domain which is really easy to spell and remember. Complex domain names are very hard to remember, so try to stick with something simple and to the point.
Do some keyword research and integrate one of the niche keywords into the domain name if you can. It will show that you are indeed a part of that niche and it will also make it easier for others to understand what you are selling as well.
Buy website hosting
Every website will have lots of content and information, so if you want an affiliate marketing site, you do need to store all that data somewhere. That's where website hosting comes into play. Hosting services are usually scalable and there are lots of options based on what you need and what you can afford.
Most of the time shared hosting is good for affiliate marketing because it's not that expensive and most people can afford it. And at the same time, you can easily spend more on hosting if your affiliate marketing website gets a lot of traffic.
It's up to you to pursue a certain growth or audience, so try to take your time and don't rush into this, the last thing you want is to not acquire the results you expect.
Join an affiliate program
Based on the niche you chose, you will have to focus on using some very particular programs. Clickbank and Commission Junction are some great options, but there are hundreds of others you can join right now.
You will have to join the desired affiliate program and then you need to add the links or codes they provide you in your own content. This way the affiliate program will know all those customers come from you, and thus you will get paid for your sales.
Install WordPress
Now that you have hosting services, you will need to install WordPress. Every hosting service has the ability to install WordPress from their cPanel, and they also offer instructions on how to do that. You need to go with WordPress because it's very intuitive, easy to customize and it brings in front some amazing results every time you use it.
Customize WordPress
Installing WordPress is only the beginning, now you have to customize everything you want. The idea is to add a theme at first. There are paid themes and free ones, so you can easily find the right option based on the budget.
You will usually find free themes to work great for a beginner, and you can go with a paid theme if the site is profitable.
Plugins are also helpful because they help extend WordPress functionality and features. Some plugins are focused on security, others are more about offering you ways to add content easier.
Other plugins are specifically designed to speed up your website, include special functions for selling products and so on. There are also affiliate marketing plugins that will help with analytics and so on.
There are paid plugins, but for the most part, you will find free plugins. And even the paid ones tend to have a free version with limited functionality.
Create content
Now that you have the website ready to go, you have to create content. Ideally, you want to make sure that you create the best possible content that you can. Research and try to cover stuff that no one did.
This will make a lot of people link to you and that, in turn, will bring in more customers, not to mention your SEO will be better and you will rank higher.
It's important to be very consistent because the more content you create on a consistent basis, the better it will be. Yes, it's not always easy to do that, but the results you get from it will always shine and that's exactly what matters the most in a situation like this.
Promote your site
Use social media, guest posting, forums and any other means at your disposal to generate buzz about your affiliate marketing website. It will help you a lot and it will make it easy to grow your business and take it to new heights.
Yes, it's not always easy to do that, but the results on their own can be spectacular. Try to promote your affiliate marketing site anywhere you can because the more traffic you get, the more sales you will have.
In the end, an affiliate marketing site can be very profitable as long as you keep up writing good content consistently. This is truly the thing you want to think about when it comes to how to Create Your First Affiliate Marketing Website.
You can work with multiple affiliate marketing programs if you want, the idea is to make sure that all the products you promote are of very good quality. This way you avoid trust problems from your audience, and you can earn quite a bit from sharing the best options available!