Writing product reviews is a great way to recommend your affiliate products and to enlighten your readers about important features of the product.
Affiliate marketing websites that install any blogging platform like WordPress; they enjoy the ability to create product review by simply adding new post.
Affiliate Website Tips for Killer Products Reviews
There are many factors that affect the sales conversion rate of your review page, factors that are not necessarily part of your actual product review copy.
Heavy Ads across your affiliate website can dramatically reduce your sales conversion rates.
Many affiliate marketers especially those that use a blog as their affiliate website, they tend to monetize their blog heavily with PPC ads (Adsense for example) and banners.
While it is a good business practice to generate multiple income streams from your affiliate website, doing so heavily will make your visitors leave your website when they click the ads.
You need to carefully place your ads so that they don't interfere with your blog post content, and this is done by placing your ads in the bottom of your content.
Your niche is also an external factor which can determine how well you will be selling your affiliate product.
Product saturated niches will leave your readers with many products options to buy, and unless you are promoting a top product you will suffer to some extend from lower sales.
A good practice is to pick a niche with high customers' base; this will affect the number of visitors coming to your affiliate website and increases the probability of making a sale.
Your reputation as a knowledgeable person in your niche is one of the factors that persuade your visitors to trust your recommendations.
Anyone visiting your affiliate website and reading your product reviews will not trust your judgment unless you have demonstrated through your insightful blog posts that you really are an expert in your niche.
Beside the content you post regularly on your affiliate website, you need to engage on other blogs in your niche (through blog comments or guest posts).
Such engagements create a great online profile for yourself and bring in many new visitors to your affiliate website, and they will start reading what you have to say attentively.
Content Types that Affect Your Product Reviews
Product reviews with just plain text will convert less with more dynamic and eye catching copies.
It is a known fact that our brain responds better to visual effect than to textual content.
People consume more brain power trying to comprehend text and process the information in it, but images for example can deliver your message faster.
That means, you need to make sure to add the following content type to your review page:
Screenshots of the product
Product's videos
Designed headlines
When you put a screenshot of a certain feature of the product, you bring your readers closer to the product.
"A picture speaks 1000 words" this is an old saying and it certainly applies in affiliate marketing.
Sometimes just showing an image of the product in action or any section of it tells readers more than you can actually say.
You can use Snagit software to capture anything on your screen and export the screenshot in a web friendly format.
Videos allow your product review's readers to see the product in action which increases the sales conversion rates to high values.
Usually there are 2 types of videos for products, either promotional videos (for sales pitch) or in-action videos.
Promotional videos can be found on the product's sales copy and they are easy to integrate into your affiliate website.
If the video is hosted on YouTube then you can right-click on it and click "Copy Video URL"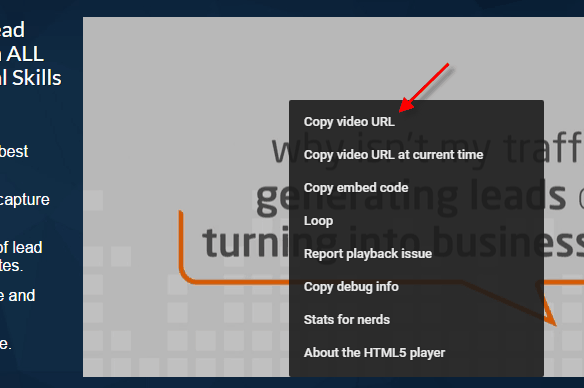 Sometimes the current clients of the product post videos of the product in action.
You need to find those videos and add them to your review page.
Google the product name and switch to video search: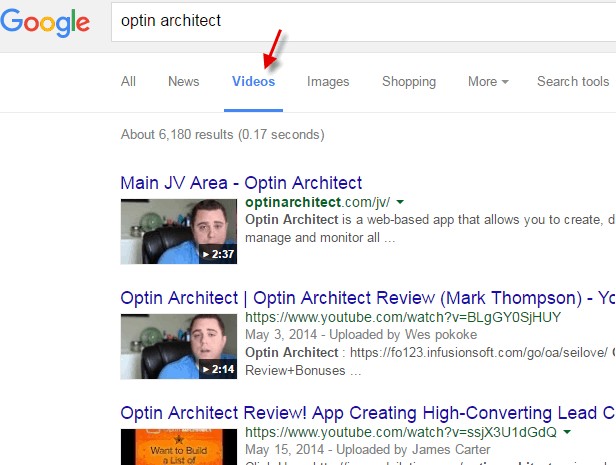 Your Headlines need to be eye catching and emphasize important features of the product.
People tend to scroll down when they are browsing any website, and they stop scrolling only when they see something that grabs their attention.
You need to be able to design your headlines in a way that make users stop and read what is even below your headline.
Since 2007 Microsoft has included a text designer in its Excel product.
Fire up MS Excel and insert a "TextBox" element on your blank spreadsheet: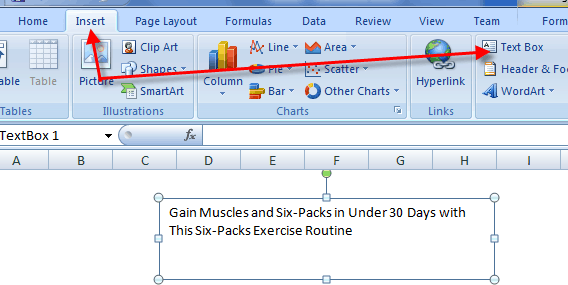 Enter your headline and change its font size, color and type as needed:

To design your headline further, switch to the "Format" tab while you still selecting your text: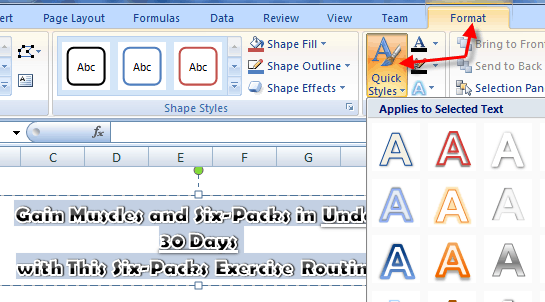 Play with the Text color, Fill color and Effects to achieve a well designed text: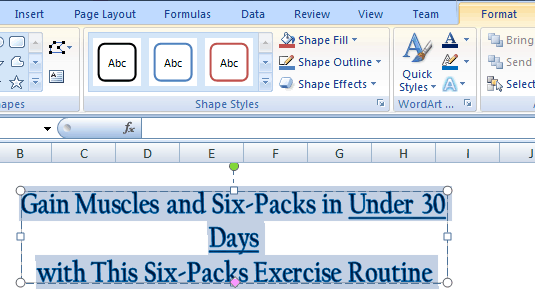 Add the Product's Benefits
Benefits and features help your readers understand your affiliate product better.
By scanning your affiliate product's sales copy you can extract features and benefits that are not given enough focus on the product's page.
If you are a good copywriter than you can make your product review even better than the original sales copy.
Open your text editor (i.e. Notepad) and start collecting benefits that you deem important to add to your review page.
Bullet points are the first thing you need to look for when you are scanning the sales copy, because they most likely will include important benefits.
Sub headlines also contain important features:

When you reorganize all these elements on your product review, you can create a unique flow and presentation of the product which will increase your affiliate sales.
Finally…
Affiliate marketers who are honest in their product reviews tend to sell more.
There is no need to over-sell or over-hype your affiliate product, people will notice that and it may end up hurting your sales figures.
Tell your product's review readers about the cons of the product and don't focus only on its pros. This helps user manage their exceptions.
If your review reader ended up buying the product based on false information you provide on your review page, then they will not only refund the sale but also they will not trust any further recommendations you make.
Different affiliate marketing courses (like affset.com) have different techniques to write review pages for maximum affiliate sales, and they tend to provide tools to help create killer reviews that sell.